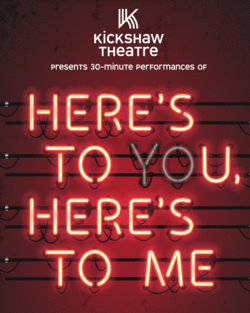 Kickshaw presents HERE'S TO YOU, HERE'S TO ME, a completely original 30-minute show devised by professional actors and musicians, from March 16-April 2. Venues and performance times vary.
Contains adult language & content.
****A note about accessibility****
For those who prefer to avoid stairs, the best location for you to see the show is Arbor Brewpub. That location will host shows on Sunday, March 19 and Sunday, March 26 at 5pm and 6pm.
Please contact us with questions about accessibility or anything else!
****
Kickshaw is a 501(c)3 not-for-profit professional theatre, operating under an agreement with Actors Equity Association, the union of professional actors and stage managers. We currently operate as a pop-up theatre.